We're experiencing the golden age of photography web forms. I bet you haven't read that sentence before. But it's true!
Turn back the clock ten years. While photographers might have had nice websites, showing their work and their passion projects, the forms were lacking. Photography companies either needed to know how to code and embed their own forms — that most couldn't do since they were busy running their own businesses — or they used outdated information collection methods.
Today is a different story. Savvy photography practices are starting to utilize online form building platforms to streamline their operations and save boatloads of time and hassle, and there's no reason you can't do it too. Below are five of the top ideas to get ahead using online forms.
Booking
Let clients reserve dates, the number of photographers needed, and the exact times required for service straight from an online form. It's easier for them to have a presentable form to fill out, and you get the information you need in a scannable, easy-to-understand format.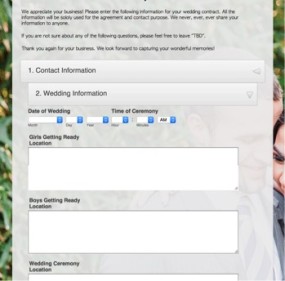 The beauty of using a contact form in addition to an email address is two fold. For starters, forms can be more enticing for prospective clients to use than sending an email, as they don't have to log in to their email provider or aimlessly craft a message. Secondly, today's form platforms neatly store your information in the cloud and integrate with CRM systems so that the information you collect is connected with powerful business tools. It's just one more way to stay on top of your game.
Collect Payment
The days of depositing physical checks or chasing down clients for their money are officially over. The leading DIY form building platforms integrate with payment solutions. So not only can you whip together a professional form in a few minutes, you can quickly and securely collect payments as well. That way, if someone is serious about your services, then can give you a deposit right from the booking stage without ever even meeting you in person.
Model Release and Agreement Forms
Oh, the marvels of modern technology. Need to get a model to sign and return a release document? You can make a form for that. E-signature capabilities on many form building platforms allow clients and models to electronically sign the online form and send it your way with a single click. No printing, scanning, or mailing required.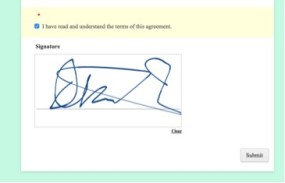 Staffing Up
Imagine things are humming along just fine with your one-man practice, but, all of a sudden, a huge event requests your service — an event that requires multiple photographers with expert skill sets and equipment. You could turn it down. Or, you could use a cleverly crafted online form to collect applicants from freelance photographers. Don't think in terms of standard job applications; create form fields for what equipment they have, years of experience, and even have them submit sample photos straight through the online form.
The real benefit of leaning on online forms is that it frees up your time so you can spend it taking and editing pictures. The best part? Online form builders are cheap. Most of the major ones even offer freemium models where you get the full suite of features for free up until a certain level of usage. And it's generally pretty inexpensive beyond that. As the photography industry gets more and more competitive, you need advantages. Online forms are just that.
Chad Reid is the Director of Communications for JotForm, a leading online form creator used by photographers all over the world. He currently lives in the San Francisco Bay Area with his girlfriend and cats.