by Gregg Ellman
(@greggellman)
For obvious reasons, there's a lot of spring cleaning going on and I'm no different, with my latest area being my office closet. Here's a few items I unearthed and felt like they are worth telling you about.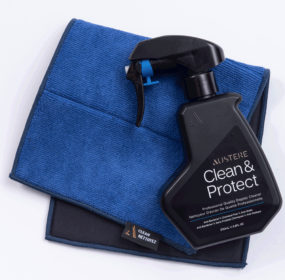 There's probably never been a better time to use Austere's Clean and Protect professional quality display cleaner. After unpacking it, I went on a cleaning spree on monitors, TV's, iPads and smartphones, all now temporarily shinny clean and most important germ-free.
The anti-bacterial, ammonia-free solution is unscented and comes with one of the best, if not the best, dual-textured cleaning cloth I've ever used. After it gets used a lot, just put the anti-bacterial micro-fiber cloth in with your next clothing wash.
The cleaning solution (6.8-ounces) comes in a specially designed applicator, which sprays the fine mist evenly to prevent screen streaks and fingerprints.
https://austere.com $19.99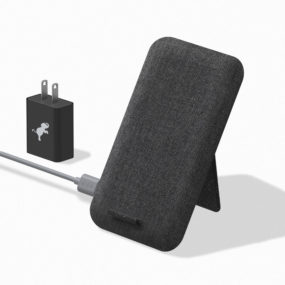 The Nimble wireless stand for Qi-Enabled devices worked perfect to charge my iPhone XS but there's a lot more to Nimble than their great products. 
When you receive a Nimble product, it's delivered in an Eco-friendly package along with a bag to recycle old electronics back to Nimble for free. They have zero plastic in the  packaging and it all works along with a line on the Nimble site where they state they are "Bridging the gap between your everyday modern needs and those of the planet."
Back to the wireless charger; it's covered in an attractive fabric, designed with a sustainable blend made from recycled water bottles and organic hemp. There is a small plastic strip on the front, which is necessary keep your phone in place.
A USB-C input keep it powered with the included cable and wall adapter.
www.gonimble.com $41.96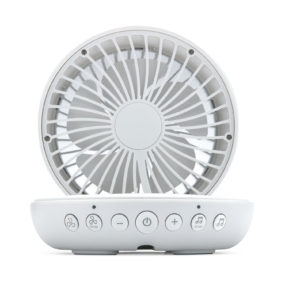 As with many others, I'm willing to try anything to assist in a better night's sleep. The iHome Air fan and sound machine looks like a small desktop fan along with producing natural white noise to work as a sleep aid.
The fan has dual speeds and works in an open position to expose the sounds or keep it closed, allowing it to be angled 90-degree to the direction needed.
Twelve built-in shooting sounds of white noise, nature recordings and sleeping sounds are accessed from bottom side buttons. Both the fan and sound can be programed with sleep timers to operate up to 8 hours.
I've used other white noise devices with great success. Now with the combined fan for better air circulation, I know sleeping will only get better with the AC powered iHome Air.
www.ihomeaudio.com $58.04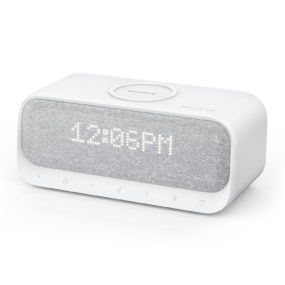 It's pretty amazing how many features are packed into the Anker Soundcore Wakey Bluetooth bedside speaker and to no surprise they work perfectly.
First and foremost, the Wakey is a beside clock with a front facing display, programable alarms, FM radio station presets and white noise settings. You can set up to 15 individual alarms, with choices from the 10 different built-in sounds.
To me the selling point of the Wakey is the built-in high speed wireless charger for Qi-enabled charging devices. To charge your device just place it on the top side pad. Charging delivers a fast 10 W charge for Samsung phones and 7.5 W charge for iPhones.
To listen to your playlists, connect your device via Bluetooth or directly with an aux cable. Either way delivers great sound from the full-range stereo drivers.
www.soundcore.com $89.99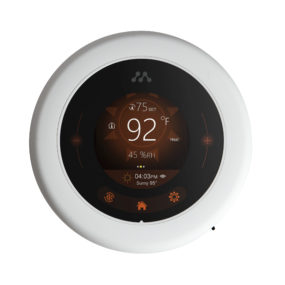 The Dancing Queen Crossbody Wallet case for iPhone (11, 11Pro, 11Pro Max) is another that has it all. 
As described by the parent company Smartish, when you're out on the town, on the dance floor or anywhere else and you have no pockets or purse for your smartphone, the Dancing Queen solves the problem.
The leather-like case with high-grip textured sides features a magnetic snap-shut wallet to hold five credit cards plus case, an adjustable and removable wristlet and crossbody straps. The straps have a loop for holding lip gloss.
D-rings on the bottom of the case are for attaching the straps on or off. When the straps are off, the loops do not get in the way.
https://smartish.com $29.99
The Momentum Meri smart Wi-Fi thermostat is a great way to keep control of your home air systems.  Once installed, your smartphone can be used with the companion app to set schedules or make temperature adjustments on the fly. 
On-screen color touch controls assist with the setup and let you set schedules and adjustments.
According to Momentum, recent firmware updates gave the smart home thermostat improvements to the room temperature sensor. It also added on-boarding flow, so once the device boots up it will walk the user through the Wi-Fi setup, system type selection and pairing to the app.
https://momentumcam.com $129.99