by Gregg Ellman
(@greggellman)
I remember years ago when I worked in cooperate America and conference rooms were the home away from home (let me politely say I don't miss those days). With each meeting we struggled to get the conference call connected, the volume loud enough for us to hear those on the other end or keeping the built-in microphone close enough to pick up our voices. Whatever we did, it was a constant struggle.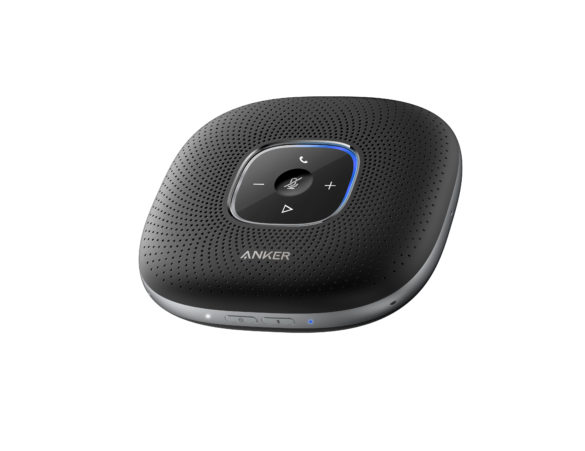 With the Anker PowerConf Ultra Clear Bluetooth Speakerphone, those problems and frustrations are a thing of the past.
It's perfect for businesses or school but I tested it for a family call and the clarity people hear us in with the 6 built-in microphone system was outstanding from anywhere in the room I spoke, regardless of the distance.. 
With the microphones, the voice pick up lets you walk and talk, sit close or further away. The Omni-Directional Voice Pickup has 360-degree voice coverage up to a 5 meter range for up to 8 people. Technology inside automatically balances voices for consistency in the volume, no matter the distance you are talking from the speakerphone.
After the call I questioned those on the other end about the clarity they heard me and unanimously it got rave reviews. During the call I even threw in some background music and crumpling paper noise to see if it upset the reception, which it didn't. What makes the clarity is that Anker's custom DSP algorithm offers real-time echo cancellation, de-reverberation, and background noise suppression to ensure your voice is picked up without distracting noises.
Setting it up is effortless, connecting via Bluetooth (v 5.0) to your smartphone or a computer (Windows 7, 8, 10, and macOS) via the USB-C connection. There's no need for software or drivers and Anker says the PowerConf is compatible with all popular online conferencing services. This includes Skype, Google Hangout, Facetime, Zoom, WebEx, GotoMeeting, and Chromebox.
Controls of the 4.9-by-4.8-by-1.2-inch conference speaker are in the center of the sop sided speaker, including a multi-function button, volume, LED status and phone controls. On the sides are power, Bluetooth, USB and and audio output port. The speaker itself has a black finish on the grill cover.
With the PowerConf's USB-C port, you can connect your smartphone for optimized speed charging from the internal 6,700mAh battery. The battery is rated to produce a week's worth of calls, or 24 hours of call time on a single charge. 
A USB-C cable and a travel case are included.
www.anker.com $129.99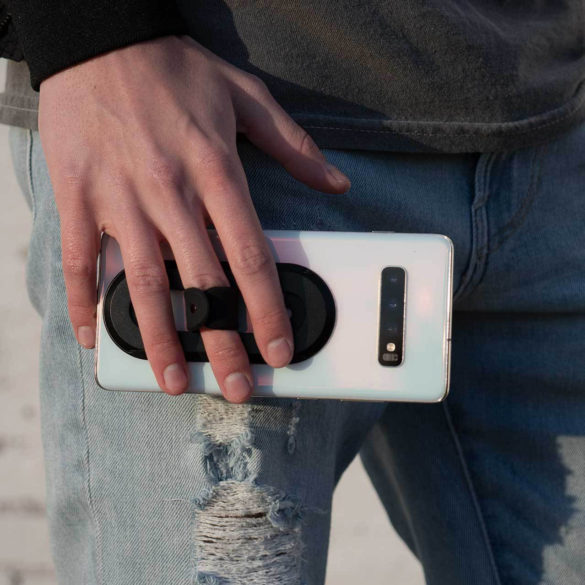 The versatile and cleaver Ohsnap phone grip attaches to the back of your smartphone case or the device itself to give you a perfect grip of your phone at any angle, rotating 360 degrees. 
When you want a finger grip, just snap out the long centered finger loop by pressing in the center and both ends pop up with the center portion keeping intact with the frame. When the ends are popped out, the center strip forms into a circular shape and hooks together making it perfect for holding it with a single finger.
When not needed, the silicone-coated grip snaps back in to a 2.7 mm thin profile along with pocket friendly smooth edges. That versatility is what sold me, on top of being about to try out the griping feature while it was still in its packaging.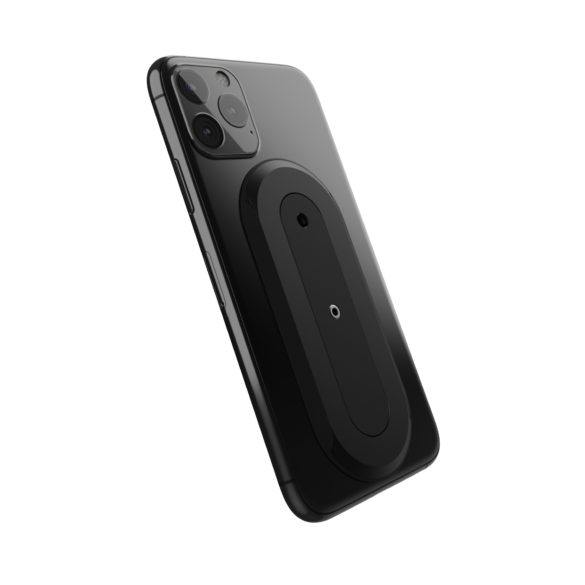 If your smartphone wireless charges, all you do is slide out the center frame, when charging is completed, slide it back in.
When the Ohsnap is snapped out, it also works as a kickstand for handsfree viewing. The center is built with neodymium magnets, allowing it to stick to magnetic mounts, workout equipment or anything magnetic. 
According to the Ohsnap site, Ohsnap works with most cases, if your case is flat and is made of a hard material. The adhesive backing can be removed and a new one reinstalled.
https://ohsnap.com $29.99 available in 9 color choices. Additional sticky mounts (2-pack $5) and car mounts ($15) are also available