by Gregg Ellman
(@greggellman)
The Misfit Vapor X smartwatch is powered by Wear OS by Google and works with both Android and Apple.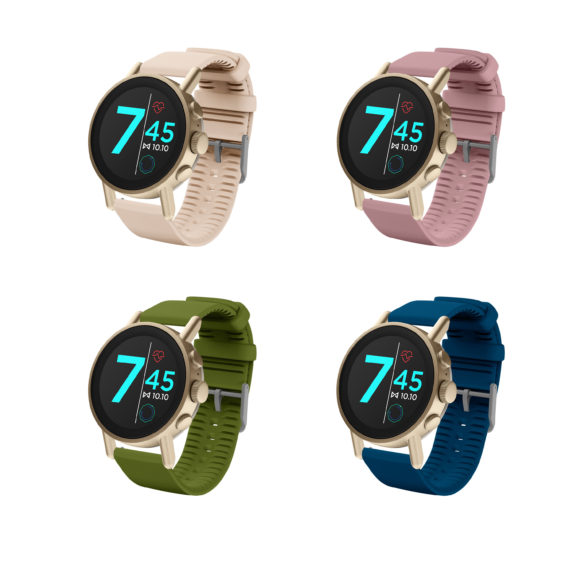 I love that it looks like a watch and is comfortable but also allows me to play music, track my heart rate and steps, check my calendar and if paired with an Android, view   messages.
With Bluetooth and Wi-Fi built in, the first thing you do is download the Wear OS by Google companion app. From there, the setup was simple right out of the box, easily connecting to my home Wi-Fi and Apple iCal. A simple swipe on the screen allowed me to get my calendar notifications, weather updates, access my heart rate with the heart rate sensor and the all important steps for the day.
Other internal sensors include accelerometer, altimeter, ambient light, gyroscope, internal microphone (talk to Google Assistant), NFC and  Untethered GPS, all powered by the Qualcomm Snapdragon Wear 3100 processor. Inside is 4GB of storage and 512MB memory (ram).
With the ambient light sensor, I could view the smartwatch night or day. I put it to test going from bright outside conditions to darker rooms at my home gym and the screen was always perfectly viewable.
Pushing the buttons on the side took me to the apps like Google Pay, Google Fit, and the Play Store to get more apps for the smartwatch. Third party app integration includes Spotify and Pandora.
The watch is compatible with Android 6.0+ (excluding Go edition) and iOS 10+. The internal battery (310mAh) lasted about a day with the factory setting and was quickly recharged by setting it on the magnetic charger. 
Like any other rechargeable gadget, the more you use it, the more you have to charge it. But there are multiple battery modes so you can extend the battery life before a charge is needed with the included USB charging cable.
The aluminum Vapor X is swimproof up to 30 meters, has interchangeable 20 mm wide straps for different looks and customizable watch faces. The 42 mm circular watch case is 12 mm thick and comes in a choice of black, champagne, rose gold, stainless steel and gunmetal.
All in all, there's a lot you can do with this watch making it a fun project. Like many others, I'm on the fitness trail as the new year starts and the Misfit Vapor X is going along with me for the ride.
www.misfit.com/ Misfit Vapor X $279.99, additional straps range from $19.99-$39.99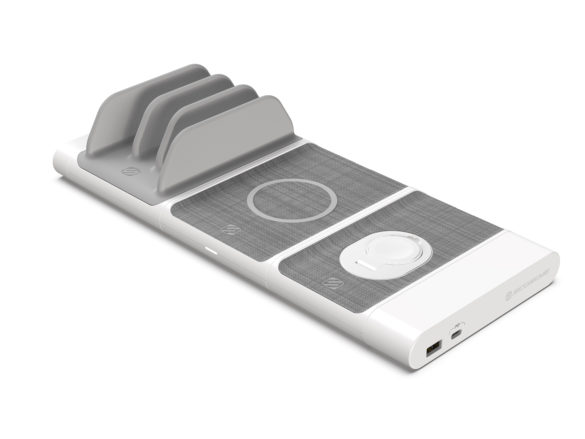 Charging for multiple devices can be a problem after all the gadgets generated during the holiday season but Scosche's has made it simple with the brand new BaseLynx charging system.
It allows for a choice of charging iPhones, AirPods, Apple Watch, iPad, cameras, portable gaming systems, headphones together or individually, all from a single AC power cord.
Scosche describes the BaseLynx as a little island of order in what can sometimes be a messy world. I think it's really a cleaver, attractive and innovative charging system, allowing you to configure it as needed, with each module connecting to the system in seconds.
The devices you have will dictate what modules you need. Each module charges a specific device, some with Qi Wireless ($49.95), Apple Watch ($69.95) or a vertical stand ($49.94) to hold there devices where you connect your USB charging cable directly to the module. The vertical module has charging for one 18W USB-C Power Delivery port and two 12W USB-A ports.
The Apple Watch stand charges your watch flat or flip the charging element up to display your watch in Nightstand Mode while it charges.
At the end of each module you can add a BaseLynx EndCap ($39.95), to add a one 18W USB-C Power Delivery port, and one 12W USB-A port to each end of the attractive charging station.
The modules are available exclusively at Apple and can be used individually or add  more as needed. There really is no setup, just snap them together to work off the one included power cord. 
A Pro Kit has a big price savings with the wireless charging pad, Apple Watch, vertical charging station, a pair of USB (A and C) to lightning cables and dual-port end caps is $199.