By Gregg Ellman
(@Greggellman)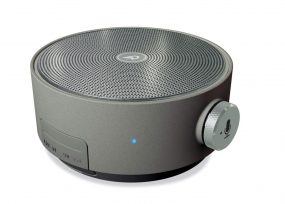 All the Dreamwave Genie needs is a command from one of 21 languages to perform a variety of features including many morning chores.
The new, innovative, multi-function device is simple to use. It's lightweight and portable (3.94 inches in diameter by 1.81-inches deep) with a topside powerful 5W Bluetooth speaker, pumping out 360-degree sound.
It pairs with your device using the power button on the bottom and volume is controlled on a side button or on your media source. Speaking of the side button, it's also used to answer handsfree calls and activate the virtual voice assistant.
The voice assistant responds to a press of the button or voice commands in 21 languages with operating systems using Siri or Google.
Languages recognized are: Arabic, Chinese, Taiwanese, Danish, Dutch, English, Finnish, French, German, Hebrew, Italian, Japanese, Korean, Malaysian, Norwegian (Bokmål), Portuguese, Russian, Spanish, Swedish, Thai, and Turkish.
Using an iPhone 7 and English commands, I could get the weather forecast, respond to a few text messages and launch my playlist before my coffee started to brew.
The Genie is splash-proof and dust resistant with an IPX5 rating and with an 1,800 mAh lithium battery, you should get about 10 hours of use.
http://dreamwaveus.com available for pre-order with an expected July deliver for $45, 35 percent off the expected retail price of $69.99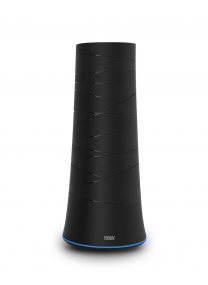 The Terk OMNI TWR amplified multi-directional HDTV antenna helps cord-cutters get instant access to local broadcast network TV channels in high-definition for free.
Dual stage amplifier technology lets you receive HD channels with the best sound and picture possible for what's available in your area. You can see what is available on the Terk website by entering your area code.
Set up is simple after you find the best location for the antenna in your house. It's recommended to put the antenna on a flat surface within reach of your TV and facing the direction of the broadcaster's tower.
Then with the TV off, plug the included coaxial cable from the Terk to the TV and then connect the power cord to a power outlet. Turn the TV on and put it in scan mode to find your channels.
A three-way (dual, preamp, bypass) switch lets you adjust the amplifier for different TV signals and is explained in the manual. It's recommended for most users to keep the switch in the dual position for best performance.
A blue LED light ring on the bottom of the 4.62 wide by 10.83-inch tall antenna lights up for no reason other then appearance.
www.terk.com $59.99 available May 15
So if you were like me, you had no idea what a smart shoe is, but a company called Digitsole introduced the first-ever complete collection of connected footwear showcasing 10 new models.
This includes a full functional auto-lacing smart shoe, which also sends critical data via Bluetooth 4.0 to a smartphone app (iOS and Android). From the outside, the shoes are as fashionable as any, but it's what's inside that makes them a gem.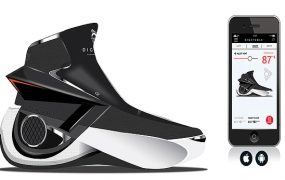 Just a tap the app to heat the insoles to 113-degrees Fahrenheit, track steps, distance, count calories burned, a well as automatically tighten the fit. Some models will analyze walking and posture while others will control the height of the telescopic heel.
Models range from womens high-heels, mens dress, athletic and kids models. Each shoe has a rechargeable battery, good for about 500 charges. Heating will run the battery out in 6-8 hours, while most other features will last for a week
www.digitsole.com expected out in September with prices ranging from $149 to $349