by Gregg Ellman
(@greggellman)
A door lock has two main features: opening and closing. Lockly, a leader in manufacturing the world's most advanced smart lock, let me give the Secure Pro Latch Edition a try.
There's a lot to say about the lock; it has great features, looks, and performs perfectly upon completion. And the instructions Lockly supplied are written in a clear step-by-step, easy to understand format. You will also need the free Lockly app, which does require a security confirmation passcode during setup.
I set out to see how long it would take my wife and I to get the old lock off and install the Lockly. I have little experience in installing locks, just a few other smart locks over the years for testing. If you're handy, this installation should be no problem using a few of your basic screwdrivers and tools. More if you have to drill new door holes.
For the most part, it took us an hour to get the deadbolt Secure Pro lock hardware installed. This included removing the old one and using the existing hole cut in my door and frame for the Lockly, since they matched. 
To make sure they match, you must go through a series of measurements with the supplied information to ensure holes don't have to be adjusted or added. The lock adjusts to different existing sized holes and the instructions go over that.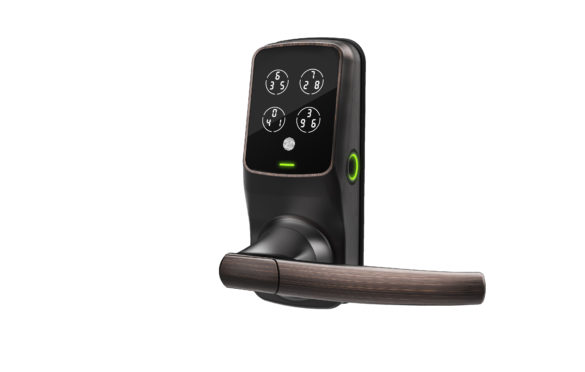 If you follow the instructions, the installation is straight forward, just take your time. This includes the included four AA batteries for power and installing the door sensors. With the hardware installed, the lock is ready to open the door from the outside the old fashioned way, with the supplied keys.
Next was setting up the secure link Wi-Fi hub with the Lockly app (iOS and Android), which does require a few security steps during the setup. The app is critical for setting up the keyless features. A user-friendly dashboard within the app works great for locking and unlocking the door.
The Wi-Fi hub is used for live monitoring with optional notifications sent to your smartphone, setting up voice assistants as I did with Alexa and other control features of the Lockly. The hub is small and plugs directly into any wall outlet within 10-feet of the lock for best performance.
You really don't purchase a lock like this to use with an actual key, although you can. Have it as a backup, but not as your main choice of entry. 
The Lockly Secure Pro offers several ways to open the lock: keyless with the app, combination, fingerprint, send a single use key to someone else (like a worker) or grant regular access to a family member or close friend and voice assistants. 
After the hardware was installed, we used the next hour and 18 minutes to set up all the other ways to get the lock open and talking to Alexa. Some of the features use the locks built-in Bluetooth and connects it to your existing Wi-Fi (2.4 Ghz).
The keypad is front facing, activated with a tap and has five buttons, four with three numbers in each and an OK button for creating and using access codes. There is a default code supplied but that should be changed right away.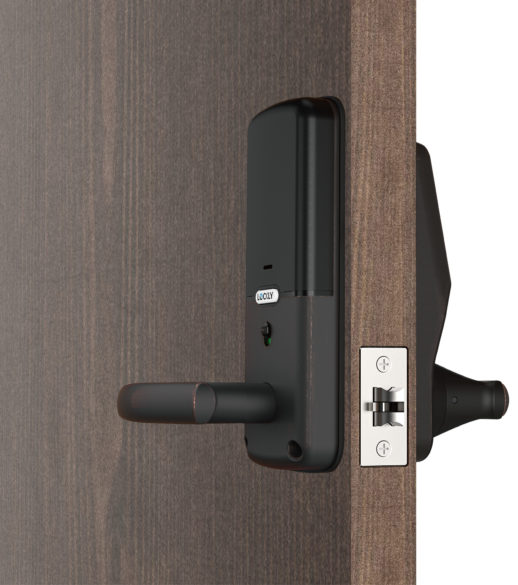 A nice feature on the keypad has the four buttons with numbers in them move (patented PIN Genie Technology) around every time you use the lock. So each time you go to the lock, the numbers are in a different unique place, so the access code pattern can't be stolen from a recorded pattern routine.
Up to eight sets of access codes can be stored and deleted when needed.
The fingerprint reader was next to be connected. Being a hot summer day, my fingers were sweaty and I did have to dry them a few times. But after a few tries, I had my thumb and index fingerprint set up and then the same for my wife. Up to 99 fingerprints can be stored.
You have to scan your fingerprint several times at slightly different angles on the reader and you'll get a beep when the reading has been registered. Now, with both hands full you can walk up to the door and as long as you can free one finger for a few seconds to be scanned, the door will unlock. It's that easy and secure. The advanced 3D fingerprint scanner is designed to prevent lifted fingerprints from being used.
Next was Alexa (or Google Assistant), which also runs you through a few security steps in the Alexa app. Remember, this is the front door you're opening, not just turning on a light, so you want this security. After a few minutes, Alexa was unlocking the door.
The lock is loaded with many innovative and handy features, too many to name here. But one in particular I liked and adjusted within the app was the auto-lock timer. The default setting has it lock instantly when you closed the door. Instead, I had it lock after the door was closed for five minutes. You can have it totally disabled, but you'll have to remember to lock it when you leave.
Access can be granted to guests and workers when you're not home and even without online access. When you do have Internet access, the lock can be controlled from anywhere.
On the Lockly's site, they state that they may not have invented the smart lock itself, but they are perfecting it with cutting-edge features such as their patented PIN Genie technology and 3-D biometric fingerprint scanner. After using the lock for a few weeks now, yes they are. And it looks great.
https://lockly.com $299.99