by Gregg Ellman
(@greggellman)
I dislike the sound of my own voice, which is not uncommon. In fact some people don't recognize their own voice when it's played back to them. With that in mind, hearing my voice was by far the only bad part about reviewing the MXL APS podcasting bundle starter kit. 
Setting up and using the all-in-one system was as easy as any. What I wasn't prepared for was having something to say for recordings. But it was just a test so I decided to  talk about my potential holiday shopping list, so in a short time I'll be able to listen to my own podcast of shopping needs.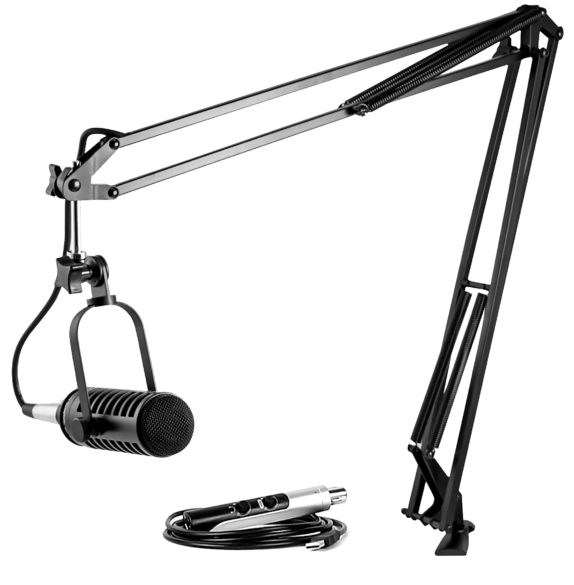 The kit includes a MXL BCD-1 Live Broadcast Dynamic Mic, MXL BCD-Stand and a MXL Mic Mate Pro for a high-quality XLR-to-USB connection.
The BCD-Stand looks similar to a desk lamp stand, with an articulating hinge arm you attach to the side of your desk or most any flat surface. Hardware is included so you can attach the arm to your desk for a more permanent placement. A XLR cable is built into the arm for a clean setup.
With flexibility to most any angle, once the microphone is attached to the stand you can adjust it to your preference.  
The Mic Mate Pro is an XLR-to-USB cable adapter so you can connect the microphone to your recording USB source; PC or Mac and with an adapter or it can connect to your  smartphone, tablet or any recording source.
The key to the system is the MXL BCD-1 Live Broadcast Dynamic Mic, which is impressive with its attractive looks and high quality glossy black metal design.  Attaching it to the stand with its swivel attachment and the XLR cable takes a second. Metal thumb screws are on the sides of the microphone for additional help to get the right angle.
Some specifics on the 6.2-by-2.0-inch dynamic microphone, it has a frequency response of 40 Hz-15 kHz, sensitivity is -54 dB re 1 V/Pa and an impedance of 600 ohms. It has a 3.5m headphone port for connecting your own headphone or earbuds for monitoring along with headphone and gain controls.
I have very little experience with podcasts, so I didn't know what software to use. Since I have Apple's GarageBand on my computer and I've had experience with it, it was my go-to choice.
The MXL APS podcasting bundle is essentially plug-and-play without the need for drivers or software. Once the hardware is connected and plugged into your source (MacBook Pro for testing) and you have something to talk about, you're all set.
So now to my personal Podcast, which was kind of fun. I have no future in the Podcast world, but using the MXL APS Podcasting Bundle was as easy as can be with excellent results. As mentioned, I didn't like the sound of my own voice, but once I got past that and made a recording I was happy with it but I let  my wife listen along for her opinion.
I got a two thumbs up from her on quality, but a thumbs down on my recorded words, "I know my wife will be listening to this test recording, so I'm choosing to not disclose what's on my shopping list for her at this time."
The clarity of the recordings were rich and clear, obviously during post production you can make any adjustments but I went with the direct recordings.
Together these products provide the essential hardware components you need to start a high-quality audio podcast, with great results and an incredibly easy and timeless setup. 
A hard black case with a form-fitting foam interior to safely store the microphone is included and a leather pouch is included for the cables and A USB cable is included to power the microphone.
www.mxlmics.com $299.95