bu Gregg Ellman
(@greggellman)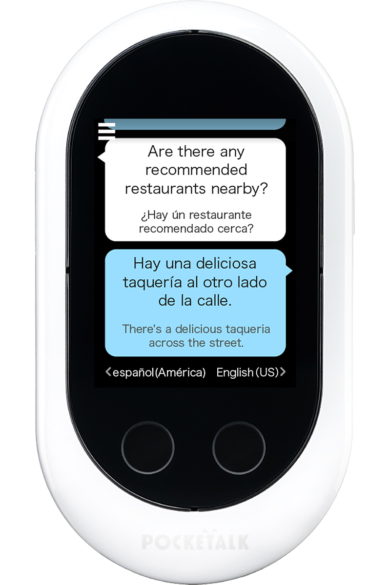 You can say the Pocketalk translator keeps the conversation going where a language barrier would easily bring it to an end.
My first words about it were "I can see how beneficial a device like this can be while vacationing in a foreign country or daily use on-the-go" to bridge the gab between spoken languages.
The oval-shaped pocket and palm sized device (4.3-by-2.4-by-0.6-inches) has its own custom OS (based on Android OS 8.1) operating system and needs internet access from your choice of a built-in mobile data plan, personal hotspot or Wi-Fi. 
Before using it I wondered why it would connect to the Internet and according to the Pocketalk site, it "connects to the internet for access to robust language engines and cutting-edge cloud technologies for highly accurate translations." The language engines are accessed to get the translation.
The Pocketalk is available in two versions. One ($249) you use with your own connection to the Internet (Wi-Fi etc) and the other has built-in mobile data with a SIM card ($299). With the SIM card version, just turn it on and it connects to the Internet, which currently should work in 126 countries. The SIM activation lasts two years.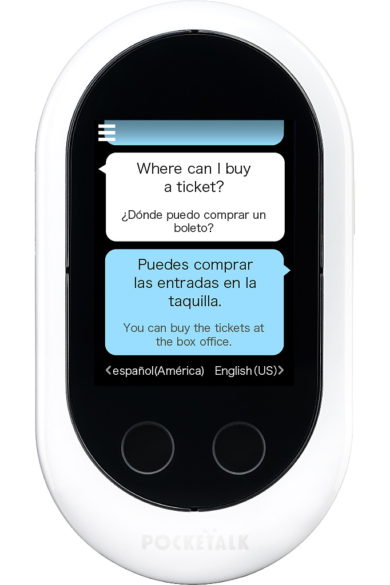 An 2200mAh internal battery keeps it running for seven hours of use or up to 10 days in sleep mode before a USB charge is needed. 
A touch panel display (320×240 pixels) on the front shows the conversation and translation. There are two built-in 1.5 watt speakers to hear the translation and dual microphones with noise cancellation hear your words with clarity. 
Other controls are for adjusting the text size, volume, sleep settings, clearing past conversations and the brightness of the display.
After you choose the two languages you want translated, there's really not a lot to it beside pressing a button while you talk to get the translation. It can handle a up to 30 seconds of speaking for each translation. 
I tested it with a friend who speaks a few languages since I only speak English and he was overly impressed with the accuracy of the spoken results. We used it with Spanish, but there are 74 languages to choose from, with more expected.
Bluetooth 4.0 is built-in to allow the Pocketalk to connect to your own external speakers.
It's really hard for a smartphone case to catch my attention but the Grip2u did just that.
The protective case features a flexible band to do something pretty simple, keep it in your hand. But what makes it even better: when the interchangeable band isn't in use, it rests flush on the back of the case without adding bulk, which is great in those rare cases when your smartphone isn't in use and stored in a pocket.
And full disclosure, I'm not a PopSocket fan mainly because it interferes with wireless Qi charging. With the Boost sample I've used for an iPhone XS, wireless charging was not a problem.
The case is protective and not bulky with drop protection. Edges protect the sides and extend over the edges of the front screen But what makes the case work for me is the grip to add an extra layer to help prevent the expensive smartphone from dropping from your grip.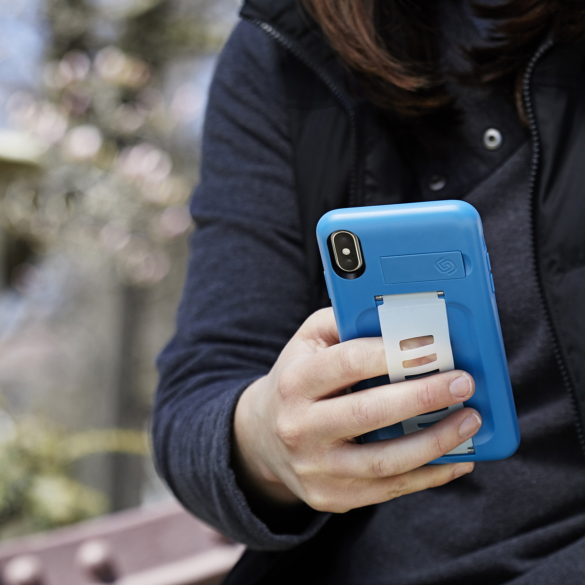 With a websites named preventthedrop.com, its easy to see the confidence they have in the Grip2u products.
Grip2u choices for iPhones and Samsung Galaxy smartphones are available in a nice choice of colorful options to mix and match the cases and bands. 
Three styles are available, the Boost ($29.99) is s standard case with the back grip, the Boss ($29.99) has slots for up to 3 credit cards and the folio ($39.99) is just that, a folio to open and close to expose the phone, which also has a few credit card slots.