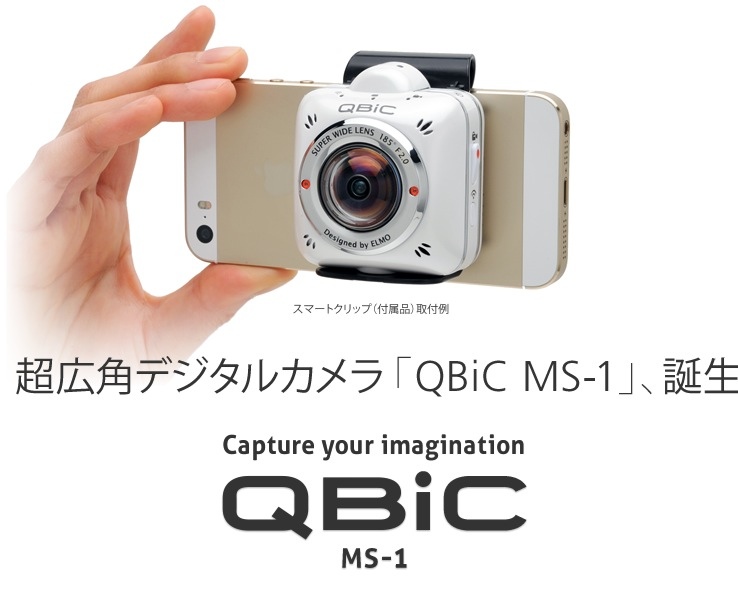 Going W I D E in Pictures and Video with the MS-1.
Who could resist the Elmo (
http://www.elmousa.com/ms-1
)
QBiC MS-1 camera? The MS-1 is a white cube, only 2.14" x 2.4" x 1.57" in size and weighing 3.3 ounces, that fits nicely in the palm of your hand. It is weather resistant, captures stills as well as HD video and even has built-in stereo microphones. But, what really sets it apart is the super-wide angle f/2.0 lens with three wide- angle settings: 185 ̊, 165 ̊ and 135 ̊. You can get as close as 0.78" to a subject.
There is no display on the camera itself. Rather, you download the Elmo QBiC app for your Android or iOS device and use that as the monitor via the QBiC's built-in WiFi. The app lets you control all the settings from image or video capture to the wide-angle setting itself. Settings are easily selected, and include: image stabilization on/off, wide-dynamic range, white balance, exposure control, interval capture, self-timer, and burst mode.

At the time of our review all accessories were not available but were said to be so by July. They include: Quick Shoe, Sport Mount, Armor Case, Smartphone Holder, Quick Shoe, Frame Mount, Suction Cup Mount, Camera Holder, Curved Surface Mount, and Flat Surface Mount. Do note that a Smart Clip, shipping with the MS-1 does clip the camera onto the back side of your smartphone. You then use your display the same as if you are holding a point-and-shoot. All settings are as noted above quickly accessed from your touchscreen.
This small wonder also does highspeed video. Two modes are available: 240fps and 120fps.
Recently, we spent two weeks testing the MS-1 extensively. The camera was placed in puddles of water during the rain allowing it to capture drops of moisture as well as amazing audio. Photographer Dan Burkholder (danburkholder.com) and Elmo Sapwater used it to action shots in the unknowns of the Catskill Mountains.
The rechargeable battery is said to last up to 2 hours (Charging is via USB). The longest video clip is currently set to 30 minutes and everything is stored on a microSD card. To test this capability, we attached the QBiC MS-1 to our car, using a GorillaPod, as we drove around town. The video was exceptional in quality. The otherwise remarkable stereo microphones, however, picked up too much wind noise for our taste. When it comes to really checking out how good capture is, hook the MS-1 to your HDTV via the HDMI port.It goes without saying that image clarity for still images captured with a 5MP sensor was mind-boggling, perhaps because of the "wide" effect. While we did enjoy the time-lapse capabilities we were unable to find anything outstanding to demonstrate its full potential.
Was there a downside? Yes, but albeit minor ones. The curved lens cap can easily be misplaced. There are a couple of holes for a tether cord but our demo model did not have one. We can't tell you the number of times we almost lost the cap. The other annoyance was the small square owner's manual, making it difficult to read, although ELMO USA will provide a downloadable PDF that lets users print it out in bigger type! The still images are saved as JPEG with no Raw capability. Lastly, the camera currently only comes in a white finish. Perhaps a black model is in the future.
What's the market for the QBiC MS-1 ($259.99)? Definitely this is for the adventurer. GoPro (gopro.com) is certainly the main one. (Do remember that there's nothing like it from that specific company when it comes to this kind of size and wide-angle capabilities.) Can the MS-1 compete? Well, we don't really seeing it so much a competitor as opening up new avenues. This QBiC is an absolute joy to use, so much so, that we're going to buy our own. It truly allows you to accept those photographic challenges that have been calling you for years to do. You may get some strange looks but you're guaranteed to go wide and get those stills and videos that separate you from the crowd. There is a lot going for this unique little package.
The QBiC MS-1 is available now. Visit ElmoUSA.com for more information.
>Elmo Sapwater is a photographer and writer for ImagingInsider.com, Photo-News.com and SnappingCat.com.